Organizers
Giving logistics a face nationwide, more media attention, presenting yourself to potential employees - these are just a few of the benefits of getting involved in Supply Chain Day.


Would you like to take part?
In the following video, we explain in five easy steps how to register and create an event.
Caution is still required with regard to Corona at face-to-face events. Here, participating companies are urged to ensure a sufficient and situationally appropriate level of security as part of the recommended measures. 
In our download section you will find useful material for Supply Chain Day 2023, such as the logo.
Ideas for events
Below you will find ideas on how companies, schools and organizations can make concrete use of the Supply Chain Day. There are also tips for possible collaborations - after all, everything is easier together.
And if Supply Chain Day falls during the Easter vacations, why not market it as a vacation program for the whole family, for example via regional providers or portals such as meinestadt.de?


Broker / developer of logistics real estate >>
---
Trade / Industry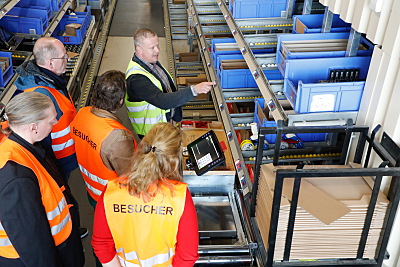 Gebr. Heinemann, operator of duty-free shops at German airports, showed the facets of retail logistics last year.














Use the Supply Chain Day to show the link between trade and logistics and not only explain to your business customers how the ordered goods reach them. You can also demonstrate to end consumers the complex processes e.g., behind food or spare parts logistics.
Use an illustrative model to explain the routes that goods such as a piece of butter or a pair of jeans take until they are ready for purchase in the shop. This makes logistics tangible.
Let employees speak and show the diverse professions involved at the interface of industry, trade and logistics, for example in the form of short video clips.
Provide exclusive behind-the-scenes insights and offer a tour of your warehouse.
Demonstrate how the logistics of goods abroad work. In cooperation with representatives of the local customs office, explain which steps have to be taken when declaring and processing goods and what digital options are available.
Organise a panel discussion with representatives from politics, associations and your company and address your concerns to a broad public.
You can offer your business customers exclusive discounts as part of the Supply Chain Day.
Cooperation partners: Work together with your logistics service providers and demonstrate how the cogs mesh precisely. Cooperation with associations or authorities such as the General Customs Directorate can also be profitable for both sides. Recruit celebrities (e.g., athletes, actors) as testimonials for your company and involve them in the marketing of your products on Supply Chain Day. Perhaps the mayor of your location can also be won over as a patron or speaker. This will also attract the attention of the regional media.
---
Logistics service provider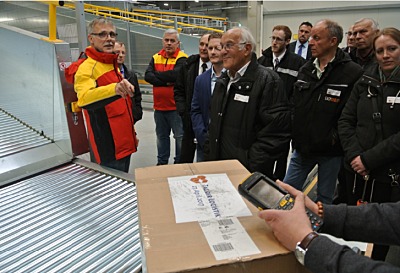 The logistics service provider DHL Delivery was one of the stations of a parcel that participants could follow on its way through the GVZ Augsburg on Supply Chain Day 2017.
Companies from the logistics services sector also have good opportunities to offer an interactive programme on the Supply Chain Day and thus make logistics tangible and understandable in everyday life:
Forklift truck driving courses
Pallet stacking or picking competitions
a logistics rally/logistics olympiad
Truck cockpit visits
"Side programmes" for adults, for example to show the possibilities of reconciling family and work through presentations by staff members
Why not invite politicians and let them work with you? This creates commitment and produces beautiful photos that both sides can use.
Cooperation partners: Make your trainees jointly responsible for the planning and implementation of the day. They are creative and authentic. Particularly exciting events can be realised with customers and partners from industry and commerce. With such a cooperation, you also expand your reach to potential participants by having both sides contribute their networks.
---
Broker / developer of logistics real estate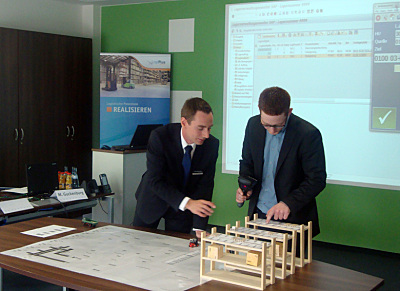 Visitors to LogiPlus Consulting's on Supply Chain Day 2016 were able to learn all about logistics real estate and what needs to be considered in its development.
Brokers and developers whose target group is logistics rarely get involved in the Supply Chain Day. Yet they should also have an increased interest in inspiring young people for the sector and improving its image in society. This day is a great opportunity to show politicians and interest groups what logistics and logistics real estate mean for the region:
Open the doors of logistics real estate and explain the special features and benefits for society
Offer guided tours of logistics real estate construction sites
Together with real estate users, show the interaction of the real estate and the processes that take place there - and thus also the facets of logistics
Present positive aspects such as jobs, tax revenues, social commitment and advantages for service or craft enterprises that benefit from logistics settlements.
Cooperation partners: Users of logistics real estate, such as logistics service providers, industrial or retail companies, are ideal partners. Likewise, cooperation with chambers of commerce, business development, GVZ society or employment agency can contribute to a high level of outreach and complement each other.
---
Universities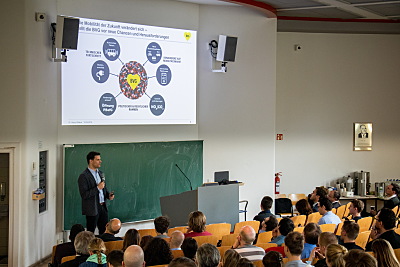 The Faculty of Logistics at TU Berlin has been participating in Supply Chain Day for years with a logistics lecture series.














In the upper grades, many career orientation events are on the agenda. As a representative of a university, you can present the focus of your studies. Supply Chain Day is also a good opportunity to refresh contacts in the logistics industry in your region.
Invite alumni to a roundtable discussion with current and future students.
Open the doors of your lecture halls, according to the motto "Get a taste today. Study tomorrow. Logistics."
Arrange for a logistics buddy to take young people by the hand for Supply Chain Day.
Organise an excursion into the world of Kanban, FIFO and LIFO with cooperation partners.
Cooperation partners: Parents' councils and the teachers responsible for the economics department at grammar schools, vocational schools and technical colleges are grateful cooperation partners.
---
Schools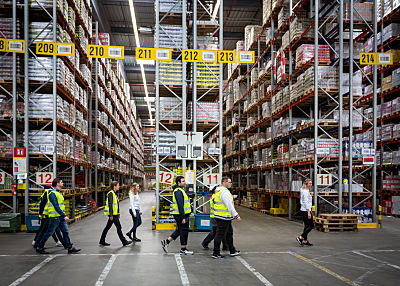 Pupils visit Metro Logistics in Bremen on Supply Chain Day 2018 and experience how food gets to the supermarket shelf.















Spring is the time for career orientation. So that not everything remains grey theory, it is a good idea for schools of all kinds to cooperate with the business community on the Supply Chain Day.
Invite logisticians to give a "logistics" lesson.
Organise project work with company visits where students work on specific questions in the run-up to the Supply Chain Day.
In the Economics Department, have two or three partners present logistics chains.
Track the carbon footprint in the Fair-Trade elective.
Let the pupils find answers to the questions: How does my cheese get on my bread? Where does my trainer come from?
Organise a "Logistics" theme day with several service providers and shippers. Not as a dull career fair, but as a day for learning.
Do a film project on the Supply Chain Day as part of art lessons.
Start a graffiti action in a condemned building that is being replaced by a new logistics real estate.
Cooperation partners: Former students who have made their career in logistics like to get involved in this way. In the competition for future skilled workers, many logistics professionals are also grateful for good ideas and the impetus for cooperation.
---
Research institutes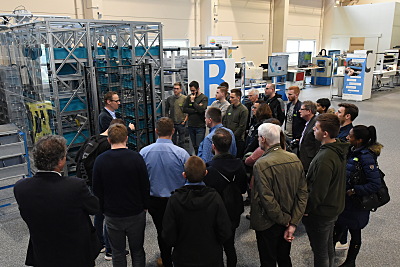 The Innovation Laboratory Dortmund of the Fraunhofer IML regularly invites guests to Supply Chain Day in the laboratory rooms and shows that logistics is a high-tech sector.
When looking for partners in practice, advocates in politics or project staff, it can help research institutes to participate in the Supply Chain Day. Last but not least, it is important to be known and recognised on your own campus.
Just open the doors and show off your logistics research.
Do small experiments with the visitors to give them a feeling for your research tasks.
Present research projects that have already been implemented together with cooperation partners from the field.
Invite potential cooperation partners to your laboratory and present interesting research approaches.
Cooperation partners: Offer your event to local schools as a project day. Logistics service providers and companies from industry and commerce are also potential partners.
---
Associations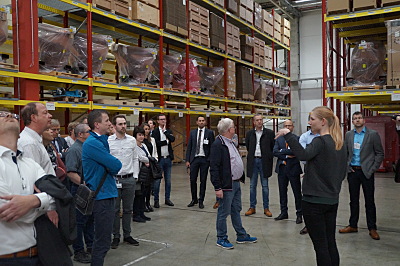 The Bamberg-Forchheim economic region, together with the logistics service provider Simon Hegele, invited visitors on Supply Chain Day 2019.
Supply Chain Day is the wonderful (and perhaps only) opportunity in the course of a calendar year to imaginatively showcase the importance of the logistics business sector:
Action in front of consumer markets: "What if logistics took a day off?"
Media-effective thank-you campaign for supply chain actors such as professional drivers
Excursion with decision-makers from politics, business development and others to a model company of choice
Offer excursions or lectures on particularly sustainable companies or projects
Cooperation partners: Companies in the region are certainly happy to cooperate on Supply Chain Day with a partner who brings in a large network and can help recruit participants. For a thank-you campaign, it is also a good idea to cooperate with other associations and organisations that also deal with logistics and supply chain management in order to maximise media coverage.