Supply Chain Day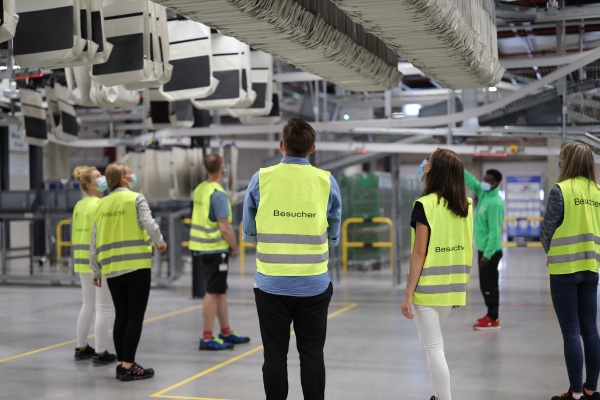 Most people associate logistics with the transport of goods. But logistics is so much more than transporting things from A to B!
Among other things, the Bundesvereinigung Logistik (BVL) launched Supply Chain Day in 2008 to bring the diversity of logistics closer to the public.
Since then, companies, organizations and institutes have opened their doors to the public on Supply Chain Day - both on site and online - and for one day - in keeping with the motto "Experience logistics live" - provide insights into the exciting tasks and diverse job profiles of logistics.
With 125 participating companies, organizations and institutes from 8 countries, 167 events and around 3,500 participants, Supply Chain Day 2023 was a complete success.
Initiators are the communication agencies mainblick and teamtosse with the support of the Bundesvereinigung Logistik (BVL), the initiative "Die Wirtschaftsmacher" and the Deutscher Städte- und Gemeindebund (DStGB).



"The economic sector of logistics offers enormous professional diversity and very good opportunities for advancement. The tasks are much more exciting than they appear at first glance - it's good that on Supply Chain Day there is the opportunity to get first-hand information from the companies on site!"

Prof. Dr.-Ing. Thomas Wimmer, Chairman of the BVL Board (Bundesvereinigung Logistik)
Logistics ...
is (almost) everywhere, 365 days a year, 24 hours a day.

is ensuring the availability of the right good, in the right quantity, in the right condition, at the right place, at the right time, for the right customer, and at the right cost.

ensures that goods and merchandise are always where they are needed, across all industries and around the world.

is often reduced to "transport, handling and storage".

has become increasingly important as a result of increasing globalization and is now an indispensable enabler, because procurement, production and sales usually take place on a global scale.

provides the necessary planning, design and control of international flows of goods and information.

is Germany's third-largest economic sector after retail and the automotive industry, with sales of around 279 billion euros in 2020

employs over 3 million people

is linked to all domestic economic sectors and industries.

acts as a growth driver both for the customers of logistics service companies and as buyers of goods or services.