AHOI – Port of Trier at Supply Chain Day 2023
21.11.2022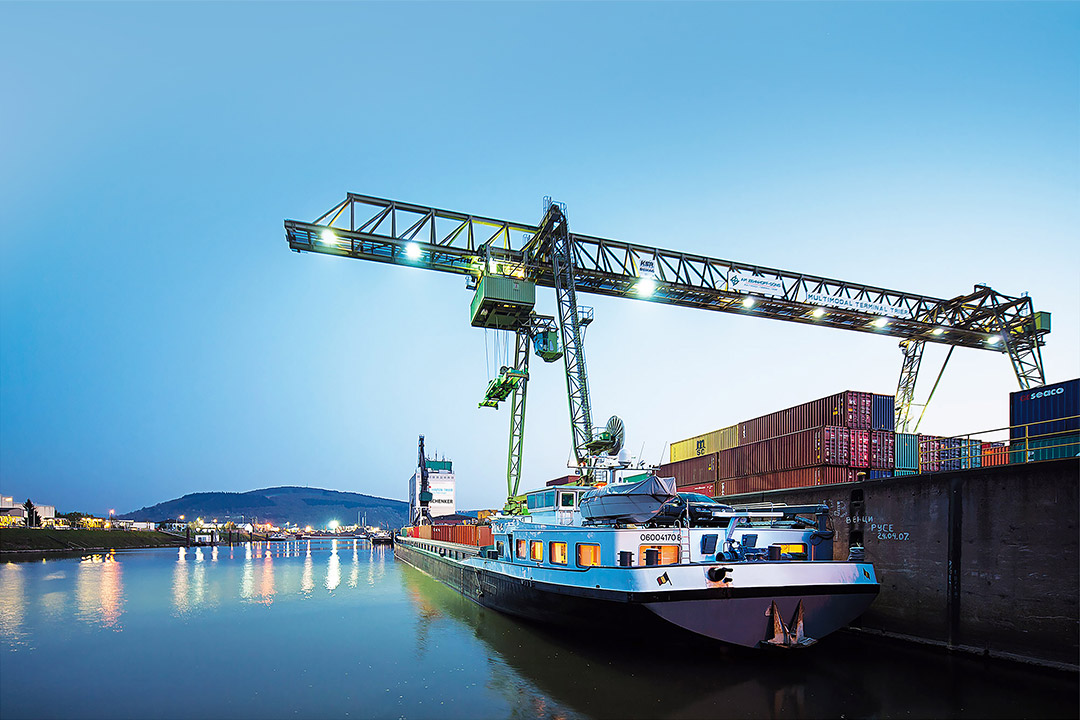 On 20 April 2023, companies, trade, industry, universities and institutions in the logistics sector will open their doors to give the general public an understanding of the importance oft he third-largest economic sector in Germany. In 2023, this will also include the Port of Trier.
"Logistics is where we are." – The Port of Trier will also live up to is the motto in a lively and particularly vivid way on Supply Chain Day. On the day of action, visitors will gain exciting insights into the daily happenings at the post, which has established itself as an important logistics location for the greater region of Trier, Eifel, Hunsrück, Saarland and Luxembourg.
Located close to the border with Luxembourg and not far from its neighbouring countries Belgium and France, Germany´s only inland port on the Moselle is closely networked with its European neighbours. It is already a high-performance hub for logistics services and the transport of goods all over the world.
Sustainable logistics
With a total of almost 1.6 million tonnes of goods handled by ship and rail per year and its strong local partners, the Port of Trier ist he logistics hub oft the greater region and ensures the supply of around 1 million people. In doing so, it ideally combines the transport modes of road, rail and waterway, to the benefit of its customers and the evironment. This is because the average ships loaded and unloaded at the Port of Trier hold a tonnage of around 1,800 tonnes, which is equivalent to 100 lorry loads.
Development into the logistics hub oft he Greater Region
In order to ensure an efficient and sustainable supply of the Greater Region to safeguard and enhance the quality of life in the future, the Port of Trier has developed forward-looking logistics and infrastructure solutions that will be implemented in the coming months. On an area of 2.5 hectares, planning is currenntly underway to expand and optimist the entire logsitics performance of ist multimodal terminal.
Implementation of new technologies
In order to fully exploit the potential of climate-friendly significance in logistics, the Port of Trier has already digitalised a large part of ist processes. In addition, the port team is involved in research projects such as IHATEC II and SINLOG, which aim to better represent and analyse emissions and integrate inland ports even more effectively into intermodal logistics chains.
As a premium partner of Supply Chain Day, the port is planning a diverse programme. The focus will be on the logistics processes in the port and the sustainable importance of inland navigation!
A comlpete overview of Supply Chain Day events can be found here.
Organisers can now enter their events free of charge here on this website.
Zurück zur Übersicht